DJI RS 3 Gimbal Stabilizer
DJI RS 3 Gimbal Stabilizer has been redesigned to be even lighter and sleeker than the Ronin RSC 2 gimbal at only 2.8 lb with a payload of up to 6.6 lb. This tiny gimbal is tough enough to support and stabilize a Sony a7S III or Canon R5 with a 24-70mm zoom lens attached. With a larger full-color OLED display, a new fine-tuning knob, and greater stability, the RS 3 can become an essential part of your compact camera kit.
With dual-layered quick release plates, mounting a camera onto RS 3 is fast and convenient. There is no need to rebalance the gimbal after swapping out a new battery or memory card.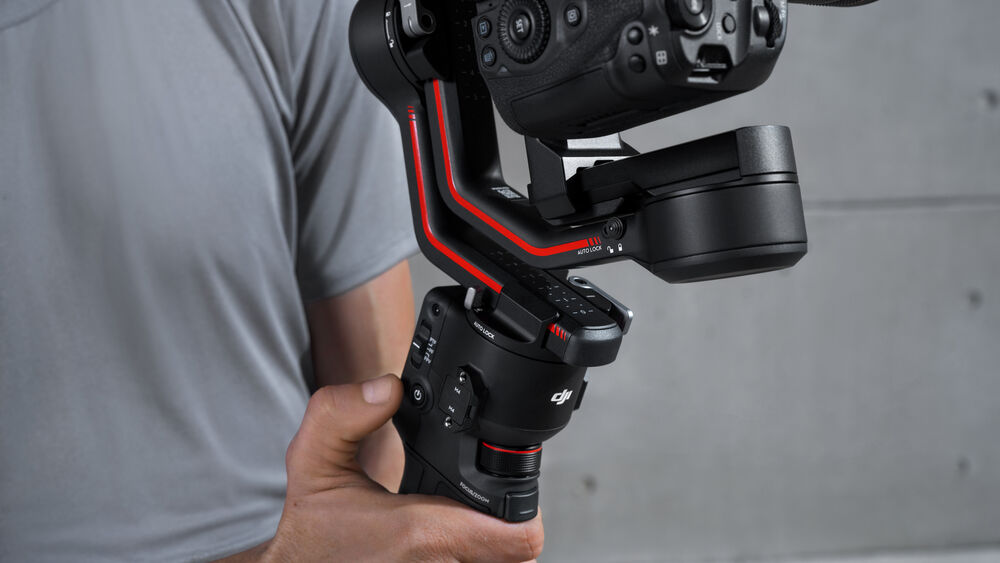 Press the power button once, and the axes automatically lock and enter sleep mode, making a move or storage significantly more efficient.
By implementing Dual-Mode Bluetooth, the RS 3 supports wireless shutter control, saving time and effort with every use. After the initial Bluetooth pairing, you can control video and photo shooting by simply pressing the record button on the stabilizer. Previously paired cameras can automatically reconnect after the first use, eliminating the need for a camera control cable.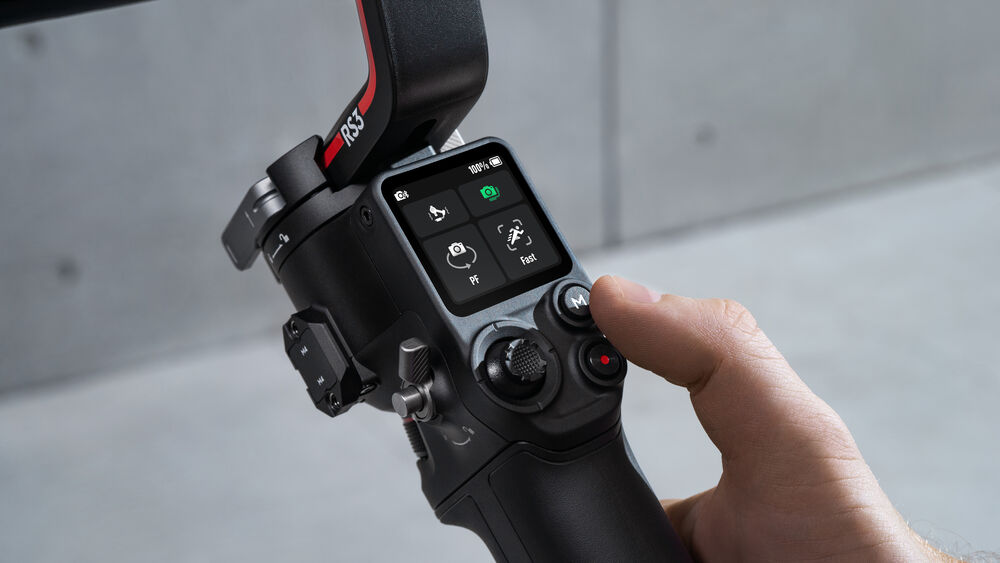 DJI RS 3  Integrated Controls
With a newly added fine-tuning knob on the tilt axis, the camera can slide forward or backward with millimeter-grade precision adjustments to achieve accurate balancing more easily when changing the lens.
By simply sliding the new gimbal mode switch, you can alternate between Pan follow, Pan and Tilt follow, and FPV modes.
Rotating the front dial allows you to control zoom or focus.
Third-Gen RS Stabilization Algorithm
Empowered by a next-generation stabilization algorithm, The RS 3 provides 20% enhanced stability over the RSC 2, effortlessly managing low-angle shots, running scenarios, or switching between high and low positions.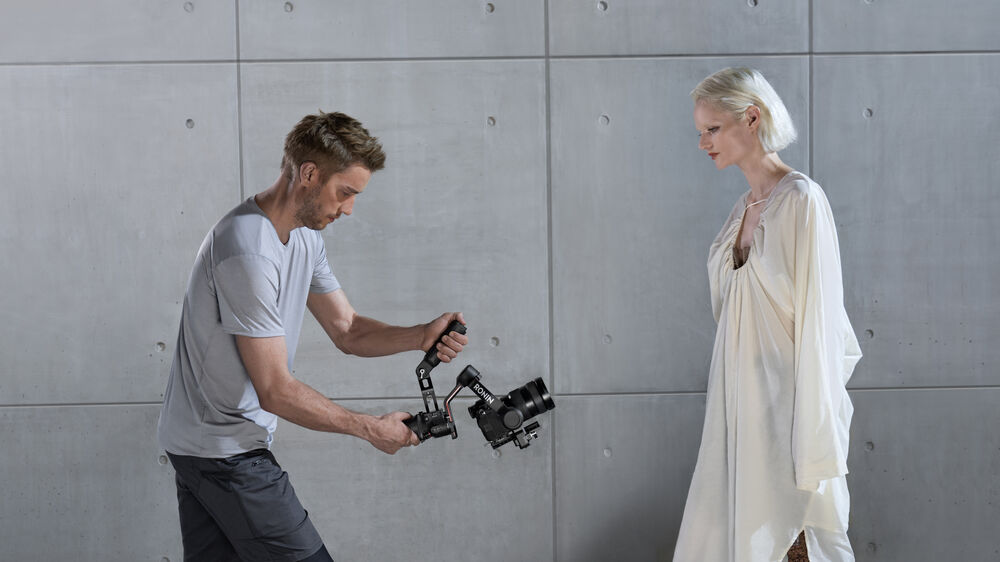 When SuperSmooth mode is enabled, RS 3 increases motor torque to further enhance stabilization. Delivering stable footage even in fast-moving scenarios or with 100mm-equivalent focal lenses.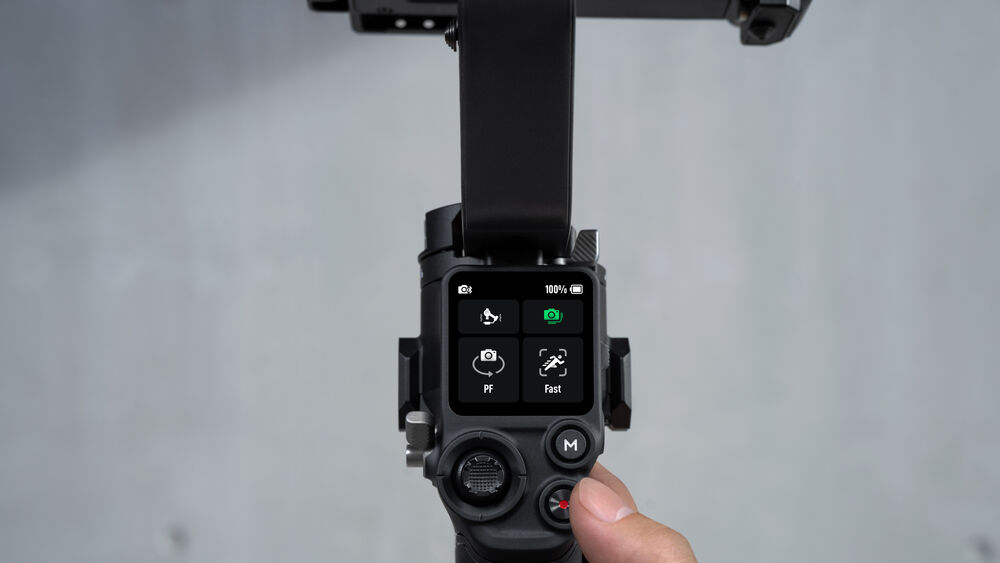 Compared with the black-and-white screen of RSC 2, RS 3 is equipped with a 1.8″ OLED full-color touchscreen with an 80% larger display. It also supports most Ronin app settings. Providing intuitive and precise control together with the redesigned user interface.
Monitoring on Smartphone
RS 3 supports the Ronin Image Transmitter (previously known as the Ronin RavenEye Image Transmitter). To transmit 1080p30 HD live feeds directly to a mobile device.
Integrated Monitoring and Control
Remotely adjust camera exposure directly in the Ronin app, or control the gimbal with the virtual joystick . To get an integrated monitoring and control experience. With the Ronin Image Transmitter, a smartphone can be used as a motion controller. To remotely control the RS 3 gimbal for more flexible and dynamic camera movements.
Enhanced Battery and Fast Charging
The new RS 3 battery grip features a cartridge design. Making it easier to swap batteries and smaller for storage compared with RSC 2. It can even be charged separately from the gimbal. The new battery grip provides an extended runtime of up to 12 hours, enough for continuous shooting all day. It supports 18W PD fast charging with a charge time of just 2.5 hours. It can even be used while charging to keep RS 3 powered almost indefinitely.
The camera retains all the intelligent motion functions such as Dolly Zoom, Motionlapse, Track, Time Tunnel, and Panorama.