Logitech G G915 Wireless Keyboard Overview
Logitech G G915 TKL LIGHTSPEED Wireless RGB Mechanical Gaming Keyboard. A breakthrough in design and engineering, the G915 features LIGHTSPEED pro-grade wireless, advanced LIGHTSYNC RGB, and new high-performance low-profile mechanical switches. Meticulously crafted from premium materials, the G915 is a sophisticated design of unparalleled beauty, strength, and performance. Meet G915 LIGHTSPEED and play the next dimension.
Logitech G G915 TKL LIGHTSPEED Wireless RGB Mechanical Gaming Keyboard Features
PREMIUM MATERIALS
The 5052 aluminum alloy top case joins a steel-reinforced base, achieving a light, ultra-thin design yet strong, durable keyboard.
FORMATIVE FUNCTION
Every detail is carefully crafted and optimized for the best experience. The aluminum-crafted volume wheel is precisely tensioned for premium feel and control. Soft-touch profile and media control buttons delivers tactile feedback for easy and intuitive control.
STRONG AND DURABLE
Brushed metal surfaces and oleophobic coated keycaps are designed to minimize fingerprints. A steel-reinforced base gives G915 an unyielding strength to persevere under the most strenuous use.
ERGONOMICALLY DESIGNED
An unprecedented thin design and new low-profile GL mechanical switches deliver a new level of comfort. The ergonomically designed, ultra-low keyboard allows for a more comfortable and natural position.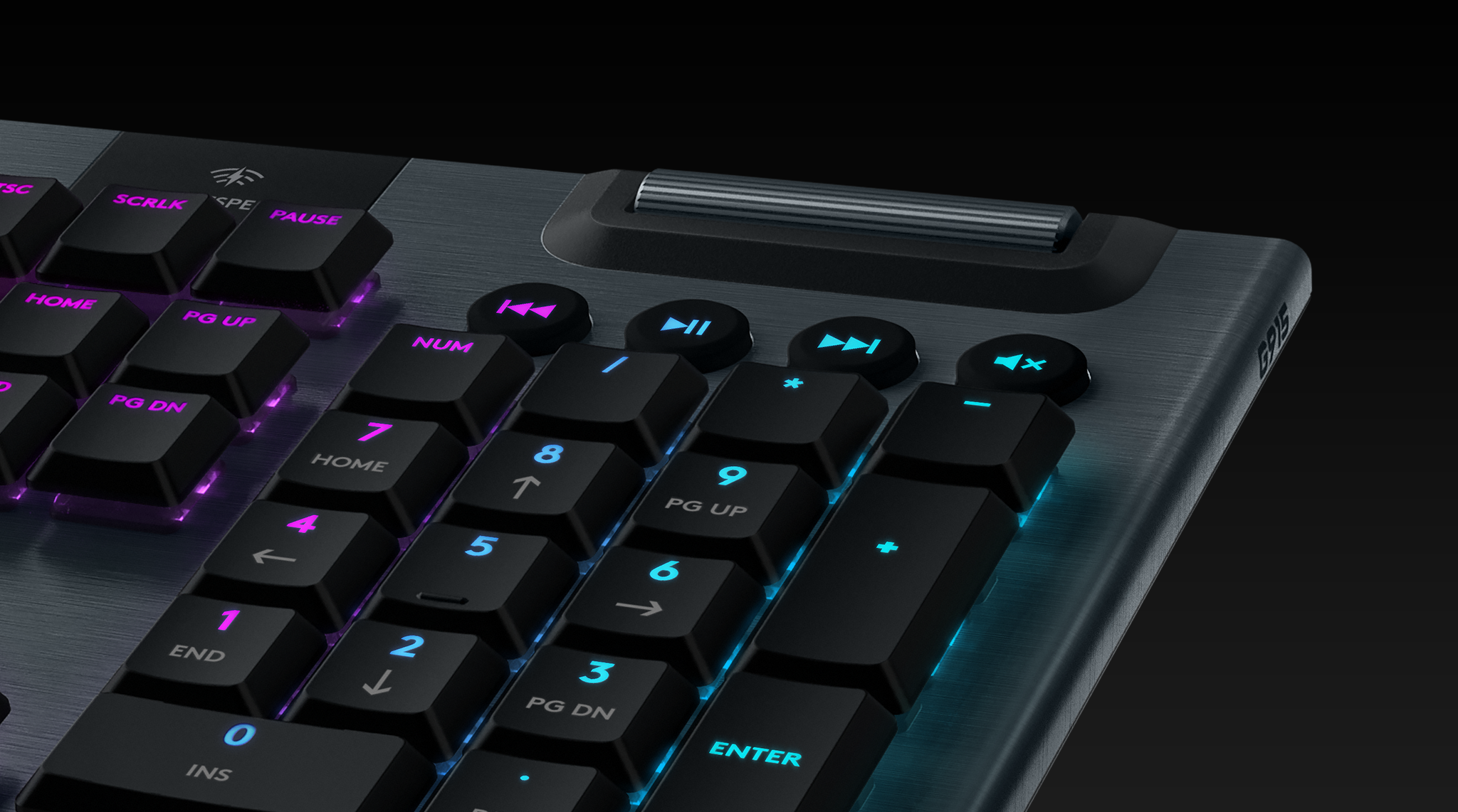 Logitech G G915  Keyboard Has INSTANT LIGHTING CONTROL
Easily change lighting effects and adjust  brightness with onboard controls. Select from seven preset animations by pressing the brightness soft key plus numbers 1-7. Create up to two of your own lighting profiles using G HUB software and save the profiles to numbers 8 and 9.
FULL SPECTRUM PROGRAMMABILITY
With G HUB software, you can create an endless combination of light and color effects across your keyboard. Choose your favorite color, create a pattern, or design your own lighting animations with the robust LIGHTSYNC editing tool.  The result is stunning environmental lighting that immerses your gear, and your room, into the experience.
LIGHTSYNC BATTLESTATION
Customize and synchronize the look of your gear with LIGHTSYNC RGB. Family your G915 with other Logitech G LIGHTSYNC-enabled mice, headsets and speakers to create a totally immersive, custom, and unified gaming setup.