BOYA BOYALINK Dual Wireless Microphone Overview
BOYA BOYALINK Dual Wireless Microphone allows you to record vlogs or interviews with two subjects with a wide array of devices thanks to the included, interchangeable adapters. A 3.5mm TRS connector, USB-C connector, and Lightning connector can be easily attached to the dual-channel receiver's output contact slot. The system includes two clip-on transmitters with built-in omnidirectional microphones to facilitate clear audio recordings from up to 328′ away. LED indicators on the components allows you to monitor battery life and signal strength. The system also includes a furry windscreen, USB-C charging cable, and a charging case to store and recharge the components when depleted.
BOYA BOYALINK Dual Wireless Microphone Features
Interchangeable Connectors with Wide Compatibility
Use the included adapters to switch your receiver output between 3.5mm TRS, USB-C, or Lightning connectors. Record with your DSLR/mirrorless camera, compatible iOS/Android smartphone, or other audio recorder.
Simply plug the dual-channel receiver into your device of choice and star recording audio. No need for additional mounts or cables.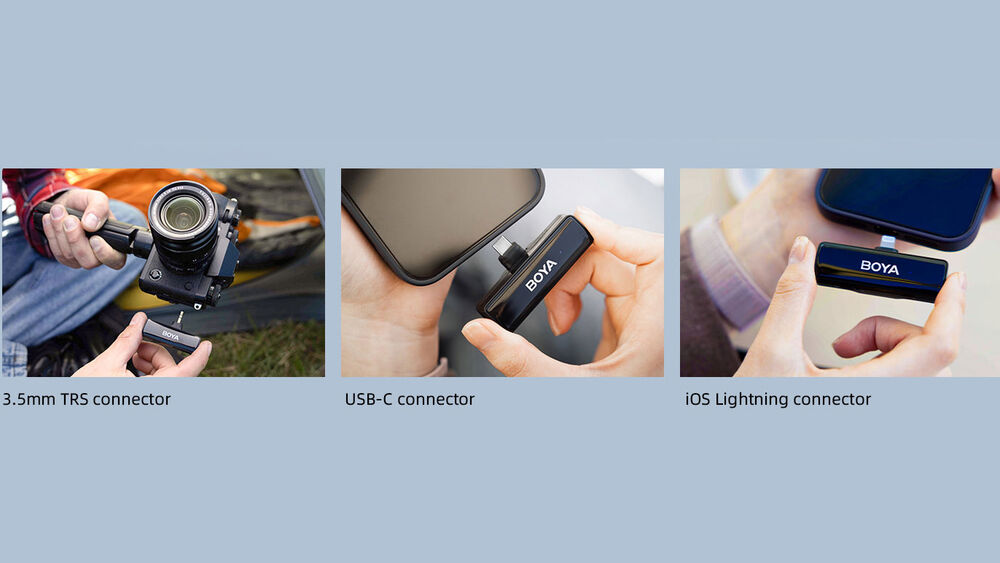 Built-in omnidirectional microphones on both transmitters capture crisp audio in your next vlog or interview. Onboard controls on the transmitter can adjust the 6 levels of gain, toggle mute, or turn on noise reduction technology. An integrated back clip easily attaches the transmitter to your talent's lapel.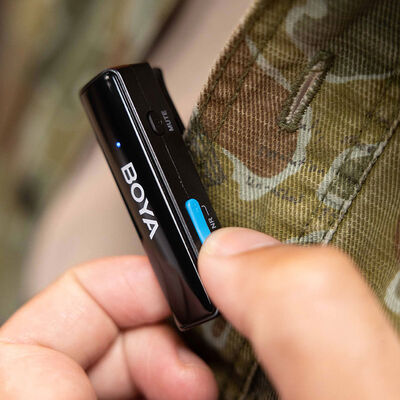 Use the onboard switch on the receiver to toggle between stereo and mono recording modes. When using the USB-C or Lightning output connector, you can charge both your receiver unit and mobile device via USB-C charging cable to extend its battery life.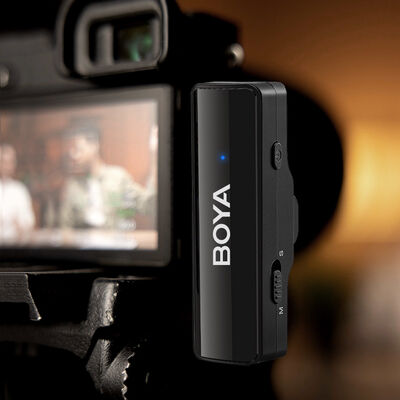 Long Battery Life, Charging Case
The transmitter units feature built-in 95mAh batteries with a 10-hour runtime, while the receiver features a 120mAh battery with a 6-hour runtime.
USB-C ports on each components or the included charging case to recharge the system in just 1.5 hours.
The charging case has a 1000mAh capacity capable of recharging your system twice. An LED power indicator allows you to check battery capacity and charging status.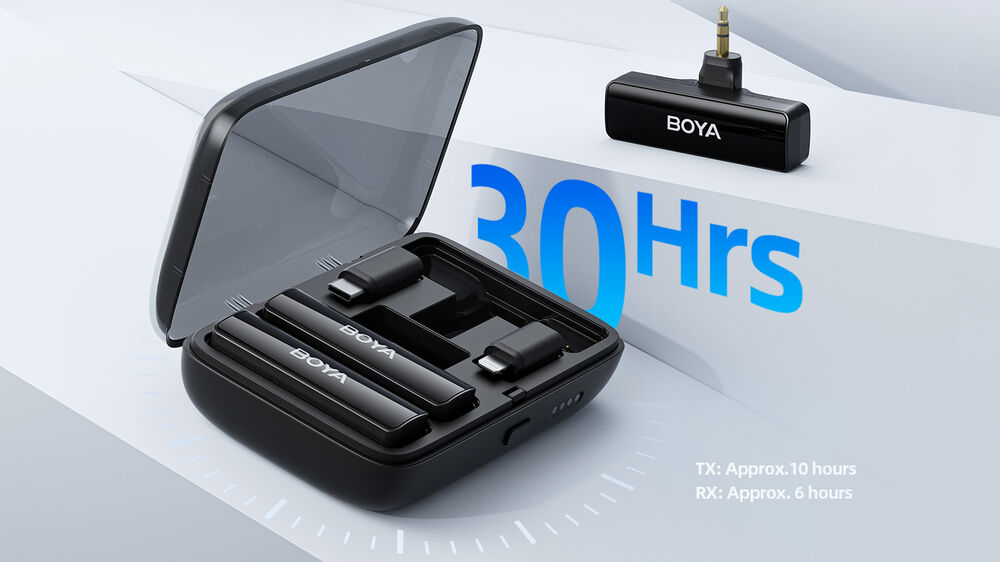 Buy BOYA BOYALINK Dual Wireless Microphone at the best price online in Kenya from 
Gadget Central Ltd.